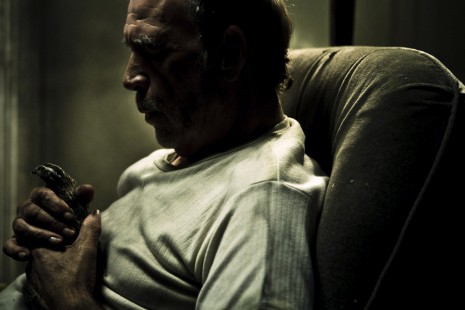 Ruth Paxton's 'PARIS/SEXY' continues its strong international festival run in May with further screenings confirmed in London, Riga and Perth (Australia).
Since the film won the UK FIlm Council Award for Best British Short at LSFF, Paris/Sexy has crossed the planet a few times with strong interest in Ruth's material from programmers in Asia and Europe.
The win in January has helped Ruth secure London representation as a designer and writer/director and she has also been accepted onto The Bureau's Save Our Scripts (SoS) development programme with a feature length project set in the Scottish traveling community.
Paris/Sexy was developed and produced by DigiCult through Scottish Digital Shorts 2008/09. The company's new development and production programme – Incubator – will work with short and feature length writers and writer/directors for the first time in 2011. Submissions deadline: 29th April 2011.
A full listing of Paris/Sexy's festival screenings to May 2011:
REVELATION PERTH INTERNATIONAL FILM FESTIVAL / Perth, Australia / July 2011
2ANNAS SHORT FILM FESTIVAL / Riga, Latvia / May 2011
BEST OF 8TH LONDON SHORT FILM FESTIVAL / London, UK / May 2011
MOVIE MAYDAY, part of EAST END FILM FESTIVAL / London, UK / May 2011
TIMISHORT FILMFEST / Romania, Bucharest / May 2011
女艺术 NUYISHU FESTIVAL / Beijing, China / April 2011
9TH INTERNATIONAL FILMMOR WOMEN'S FILM FESTIVAL / Istanbul, Turkey / Mar. 2011
ELECTRIC SHADOWS presents INTERNATIONAL WOMEN'S DAY Special Programme / Beijing, China / Mar. 2011
4TH LICHTSPIELKLUB KURSFILMFESTIVAL, 'British Shorts' / Berlin, Germany / Jan. 2011
8TH LONDON SHORT FILM FESTIVAL / London, UK / Jan. 2011
REGGIO FILM FESTIVAL / Italy / Nov. 2010
ENCOUNTERS INTERNATIONAL FILM FESTIVAL, Encounters Best of British / Bristol, UK / Nov. 2010
INVERNESS FILM FESTIVAL / UK / Nov. 2010
29TH UPPSALA INTERNATIONAL SHORT FILM FESTIVAL / Uppsala, Sweden / Oct. 2010 (IN COMPETITION)
XIITH WT OS INTERNATIONAL FILM FESTIVAL / Bergen, Norway / Nov. 2010
FESTIVAL INTERNATIONAL DU COURT METRAGES / Lille, France / Oct. 2010 (IN COMPETITION)
IV SHORTINI INTERNATIONAL SHORT FILM FESTIVAL / Augusta, Italy / Sep. 2010 (IN COMPETITION)
64TH EDINBURGH INTERNATIONAL FILM FESTIVAL / UK / June 2010 (IN COMPETITION)
DRESDEN INTERNATIONAL SHORT FILM FESTIVAL / Dresden, Germany / April 2010
«
Foxy & Marina Wraps
|
Virgin Media Shorts
»