Scottish filmmakers gather for inaugural workshop at GFT
After a tough selection round, DigiCult's Incubator programme has launched in Glasgow. Following a national call for Scottish-based talent, 13 writers and writer/directors have been selected from 85 applicants to join our intensive development and production programme. They are:
Ryan Adams – Antonia Bain – Tom Chick – Sam Firth (also feature film) – Neil Hepburn – Eva Riley – Mark Rossi (Shorts)
Norman Bissell – Hugh Farrell (also short film) – Marcus Harben – Gregor Johnstone – Lorraine McCann – Tom McCarthy (Features)
To kick-start the development of the individual projects, the group was invited to attend a two-day Story Room workshop led by Paul Welsh, the first of three development workshops scheduled over the next 9 months (Tuesday 17th, Wednesday 18th May).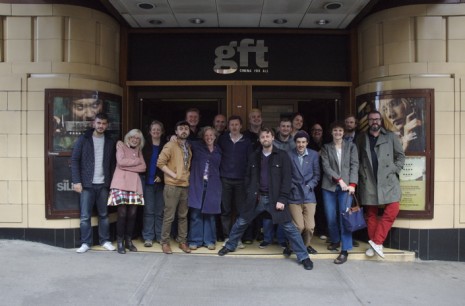 Hosted by Incubator's partner Glasgow Film Festival at the historic Glasgow Film Theatre, the talent watched a selection of classic and contemporary feature films including Cries & Whispers, Hanna, Skeletons and My Dog Tulip, plus short animations and live action films including The Tannery (Iain Gardner), Rebecca (Nick Whitfield), Over The Hill (Peter Baynton) and Rite (Michael Pearce).
With these films acting as inspiration (and target practice), the discussion on story and script was wide ranging and interspersed with opportunities for personal storytelling as well.
Incubator's Story Room workshop was promoted and supported by Virgin Media Shorts – thank you VMS! – with Ex-Culter Jonny Barrington and Greg Andrew our guests through our partner's network.
At this point, DigiCult wants to thank everyone who applied to join Incubator 2011. Our resources are finite but our respect goes out to everyone who aims to tell a story for the screen.