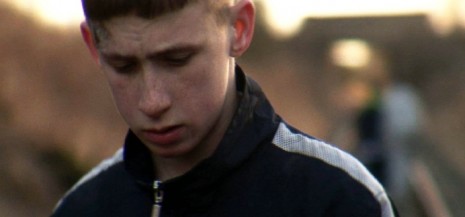 Tracks 2006 (Martin Smith) Producer Karen M Smyth
Twelve teams of emerging writers, directors, animators and producers have been shortlisted for the Scottish Shorts programme 2012/13. The twelve live action and animation films will be developed over the next 3-4 months before being pitched to an industry panel. Four high-quality projects will then be selected for production in spring 2013.
The programme is a collaboration between Hopscotch Films and DigiCult with investment from Creative Scotland, and draws on the experience of acclaimed producers John Archer, Carolynne Sinclair Kidd and Paul Welsh. They bring an extensive mix of talent and experience to the programme offering invaluable support and expertise to the chosen film-makers, helping to create high quality projects and equipping film-makers with the skills to break into features and promote their work on a national and international platform.
Several of those shortlisted have already achieved acclaim for their previous work. Ian Robertson's highlights to date include Best European Animation at the Young Director Awards in Cannes, a BAFTA New Talent Award in 2011 for The Chameleon, Best Drama at Exposures Film Festival and Best Film at the British Student Film festival in 2012 for his short film 'The Phone Box'. Ainslie Henderson's Edinburgh College of Art graduation film 'I Am Tom Moody' won awards for Best British Short at Encounters 2012, Best Student Film at Krok 2012, and both the Grand Walt Disney student short award and Ottawa media prize at Ottawa International Film Festival 2012. Martin Smith won the 2006 BAFTA Scotland Award for Best Short Film with his short film Tracks.
The shortlist:
'As He lay Uncertain' Writer/Director: Ian Waugh
'Exchange and Mart' Writer/Director: Cara Connolly & Martin Clark
'Frankie and Adam' (Animation/Live Action) Director: Michael Hughes; Writer/Director: Jessica Connell
'Hedgehog' (Animation) Writer/Director: Ania Leszczynska; Co-writer & Producer: Jessica Connell
'Monkey Love Experiments' (Animation) Writer/Director: Ian Robertson: Producer/Co-writer: Sam Ferguson
'Take Your Partners' Writer/Director: Siri Rodnes
"The House That Makes Children Old' Director: Matt Cameron: Writer: Tom K McCarthy
'The Whale's Song' (Animation) Writer/Director: Andy Kaiser; Joseph Atkinson
Untitled Project Writer/Director: Martin Smith
'Wild' Writer/Director: Alasdair Bayne
'Wiyuld' Writer/Director: Rory Alexander Stewart
Paul Welsh of DigiCult said:
"Judging by the quality of entries for the programme, Scotland has a strong passion for narrative film-making. We're excited about working on these wonderful projects with the talent."
John Archer of Hopscotch Films commented:
"We were overwhelmed by terrific submissions and have a very strong shortlist to develop further. We look forward to some brilliant productions."
Caroline Parkinson, Director of Creative Development at Creative Scotland commented:
"Congratulations to the film-makers shortlisted for the first Scottish Shorts programme. This programme brings talent to the forefront and their skills and knowledge will thrive under the guidance of Paul, John and Carolynne, taking them to the next level in their careers and strengthening film-making in Scotland."
Over the coming moths Digicult will release more information regarding the talent and progression of the Scottish Shorts Programme 2012/13.