EIGHT SHORT FILMS FROM
SCOTTISH FILM TALENT NETWORK FILMMAKERS
TO SCREEN AT EDINBURGH INTERNATIONAL FILM FESTIVAL 2018
Diverse and Ambitious Slate, 50% From Women Filmmakers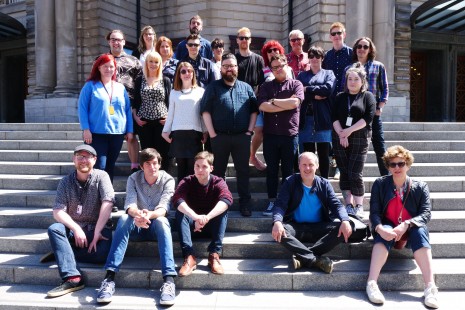 © Copyright Edinburgh International Film Festival
EDINBURGH – Showcasing exceptional new and emerging talent from Scotland, eight short films will screen in the Shorts Strands of this year's Edinburgh International Film Festival: Shorts – UK1: Firecracker, Shorts – UK2: Kaleidoscope and The McLaren Award: New British Animation 1. Commissioned and produced by Scottish Film Talent Network, the Shorts will screen between 23rd and 27th July as part of EIFF's thrilling showcase of the finest brand-new short films from across the globe.
Supported by the National Lottery through Creative Scotland and the BFI (British Film Institute), the Scottish Film Talent Network (SFTN) is a consortium made up of Centre for Moving Image, DigiCult, and Hopscotch Films, offering new and emerging filmmakers significant support for individual film projects (shorts and features) and a range of professional development opportunities. The talent development programme is targeted at Scottish based writers, directors and producers with the imagination to create engaging stories to share with international audiences. Commissioned short films receive funding of between £15,000 and £25,000, and can be enhanced by partnership funding and through crowdfunding initiatives.
With filming and the majority of post-production taking place in Scotland in 2017-18, this year's Scottish Shorts programme demonstrates the depth and breadth of Scottish film talent, across an impressively wide range of genres and visual styles:
Bunny – heart-breaking fantasy-drama exploring mental health, with young Govan model Connor Newall making his acting debut.; 12 Point Kill – taut domestic thriller starring Shauna Macdonald, set in a remote 'off-grid' community;Widdershins– animated steampunk action-adventure exploring the impact of AI and robots on day-to-day life, featuring the voice of award winning Scottish actor, Brian Cox; None of the Above – hard-hitting tragedy delving into the effects of social media on interpersonal relationships, shot on iPhone 7+ featuring Holli Dempsey; Lift Share – a pan-European adoption drama starring Ana Ularu and Mark Rowley; I Was Here – Traverse playwright Morna Pearson's blackly comic story of a young Elgin girl struggling with her adult responsibilities; My Loneliness is Killing Me – LGBQTI focused exploration of modern love framed by technology and late night online encounters; Tomorrow Might Be the Day – unsettling, mysterious story of one man's unwavering faith in a supernatural force.
Five of the ten projects on SFTN's current production slate are directed by women. In addition to the eight SFTN films in EIFF's programme, another two films written and directed by women are currently underway, resulting in a 50/50 gender split across the fund's short film output this year.
SFTN has a track record of nurturing and developing new and emerging talent in Scotland. Commissioned in 2016, Director Gordon Napier's short film, 1745, screened at EIFF 2017 and played in competition at a number of international film festivals. The film also received BAFTA Scotland and BIFA nominations for Best Short Film. The success of the film helped to elevate Napier's profile and he is now represented by national and international agents including CAA in LA. 1745 screenwriter and actor Morayo Akandé signed to prestigious talent agency, Casarotto Ramsay, as a result of her work and is now developing a feature based on the short with SFTN.
Paul Welsh, Executive Producer, SFTN (for Digicult), said: "With the launch of Creative Scotland's Screen Unit and the changes at BBC this year, we finally have a chance to radically alter the landscape of drama production in Scotland. SFTN's slate at EIFF is indicative of the wealth of talent this country possesses. It's now time to back this talent with the level of resources required to take the step into long form drama and first features. We will need to be courageous and willing to take risks just like the talent, but that's how great work is ultimately made."
Ross McKenzie, Screen Officer at Creative Scotland, said: "Creative Scotland and our partners at the BFI are delighted with the progress of the Scottish Film Talent Network. Our industry partners CMI, DigiCult and Hopscotch Films have worked hard to identify the very best emerging Scottish filmmaking talent, bringing a diversity of voices to the screen. With half of the projects on the new production slate being realised by women; films such as 1745 (2017) acknowledging Scotland's historical links to the slave trade; and Bunny (2018), which explores mental health, we are closer than ever to reaching a point of equality, diversity and inclusion for new and emerging filmmakers entering the  film industry in Scotland.
Carolynne Sinclair Kidd, Executive Producer, SFTN (for Hopscotch Films), said: "The talented Scottish based writers, directors and producers who have been making short films with the SFTN, developing feature scripts, and/or attending the various talent labs and training initiatives we support, are now ready to step up and make feature films that will travel internationally, representing the best of Scotland in the world's cinemas.  It's not easy to get yourself noticed in a crowded short film market, where everyone who has access to a mobile phone can make a film.  But our filmmakers are making stand out work that connects and moves and has something important to say about this confusing state of being human: they are winning awards internationally, and they are now starting to get the recognition they deserve, with several of our alumni now working with major feature film financiers. There is, of course, still much to be done to create a vibrant feature film industry in Scotland, but Rome wasn't built in a day, and we are laying incredibly strong foundations."
The SFTN short films will screen as follows:
Shorts – UK1: Firecracker
SATURDAY 23 JUNE – 15:55
Bunny by Shaun Hughes/UK/2018/18 mins
12 Point Kill by Iain Mitchell/UK/2018/14 mins
None of the Above by Siri Rødnes/UK/2018/16 mins
Shorts – UK2: Kaleidoscope
WEDNESDAY 27 JUNE – 18:20
Lift Share by Virginia Heath/UK/2018/21 mins
My Loneliness Is Killing Me by Tim Courtney/UK/2018/16 mins
I Was Here by Joe Carter/UK/2018/11 mins
Tomorrow Might Be The Day by Joséfa Celestin/UK/2018/20 mins
The McLaren Award: New British Animation 1
WEDNESDAY 27 JUNE – 15:35
Widdershins by Simon P Biggs/UK/2018/10 mins
Alumni of SFTN's New and Emerging Talent Shorts Commissioning and various development programmes, will participate in this year's EIFF Talent Lab. Screenwriters: Michael Lee Richardson (My Loneliness Is Killing Me, SFTN 2018); Writer/Directors: Joséfa Celestin (Tomorrow Might Be The Day, SFTN 2018), Iain Mitchell (12 Point Kill, SFTN 2018), Gordon Napier (1745, SFTN 2017), Tom Nicoll (shortlisted for Scottish Shorts, 2018), Kevin Pickering (Close to The Bone, SFTN 2017); and Producers: James Heath (shortlisted for Scottish Shorts, 2018), Margarita Veberaite (Tomorrow Might Be The Day, SFTN 2018), Lewis Wardrop (Close to The Bone, SFTN 2017).
For accredited delegates interested in learning more about SFTN or speaking with the team, there are a number of opportunities to attend and participate in networking events, across the festival:
FRIDAY 22ND JUNE
Meet the NETWORK (16:15 – 17:00, Traverse Theatre 2)
BFI NETWORK Roundtables: Shorts Formula (17:15 – 18:30, Traverse Theatre 1)
Early Doors… Networking Drinks (18:30 – 19:30, Traverse Bar Café)
SUNDAY 24TH JUNE
25/7 NETWORK (17:15 – 18:30, The Lyceum Rehearsal Room)
Early Doors…Networking Drinks (18:30 – 19:30, Traverse Bar Café)
For delegates interested in learning more about the process of optioning and developing a literary work, SFTN's Paul Welsh of DigiCult will be participating in a panel discussion on this subject, on Friday 29 June.
The Edinburgh International Film Festival takes place from 20 June – 1 July. For event information and tickets, visit: https://www.edfilmfest.org.uk/